MAFSI '22 Registration Now Open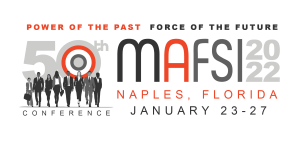 Registration Now Open for MAFSI '22!
Be part of the largest educational conference in the foodservice industry.
MAFSI '22 may be the most important event you attend all year!
Expansive: The largest foodservice educational conference with 700+ attendees.
Illuminating: 52 education sessions over three days.
Relevant: Specifically tailored content for reps and manufacturers.
Time Sensitive: Only held every non-NAFEM year, so if you miss one…you miss everything.
Certified: Guaranteed results you can count on…or your money back. No questions asked.
Fun: In addition to results, you're guaranteed a great time.

Make MAFSI '22 your Future - January 23rd to January 27th at the Naples Grande Resort in Naples, FL.
Save $200 when you register by August 31st
Register Today by visiting www.mafsi22.org