Q3/2022 MAFSI Business Barometer: Industry Sales Abate to High Single Digits as Supply and Demand Come into Balance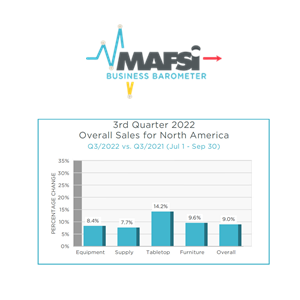 Overall sales for Q3/22 continued to abate with a still healthy advance of +9.0%, having receded from +17.3%, +15.2%, and +14.3%, over the past year and a record high of +19.1% in Q2/21. This represents the first time in the past 6 quarters that the sales increase was single digit.
The forecast for Q4/22 vs Q4/21 is +8.0%, down from +20.7%, +17.9%, +16.8%, +13.2%, and +11.5%, over the past 6 quarters. Whereas we are now measuring GROWTH ON GROWTH, in the prior year we were measuring GROWTH ON PANDEMIC FACTORS.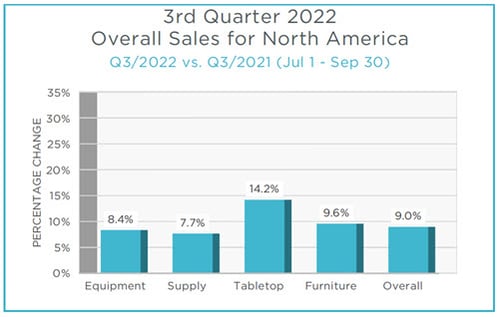 Although there currently is no industry wide definitive measurement of Foodservice Equipment and Supply inflation, clearly most price increases over the past year have cumulatively been in the range of 10% to 20% (or higher!). As such, it is logical that's real growth in terms of unit sales, which very few companies actually report, has fallen into negative or at best, very minimal growth.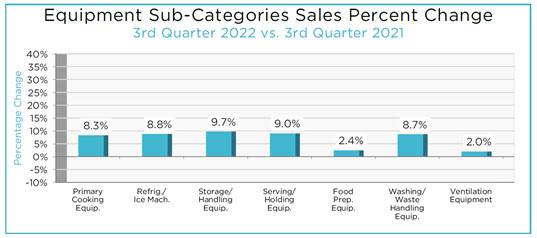 Both Quotation and Consultant Activity have slowed as shown in the lower performance chart on Page 2 of the report. Aside from the Pandemic period, this is the first time in at least 7 years that more Reps are reporting less Quoting Activity at 32% Less than 29% More for a negative gap of -3%.

Certainly the pipeline is filling up with increased dealer stock and advanced ordering of projects to insure completion when needed and to beat price increases, coupled with the improvement of manufacturer's lead times. The long proven laws of Supply/Demand relationships are coming into balance as business normalizes.

MAFSI will be releasing its detailed annual forecast for 2023 very shortly.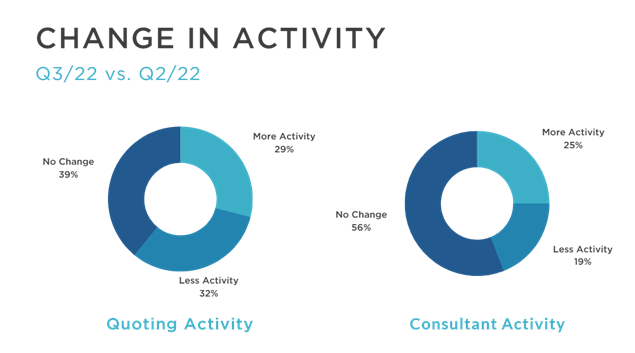 See Full Report - Qtr 3 2022 MAFSI Business Barometer
Executive Summary written by Michael R. Posternak, PBAC & Associates LTD. Eastchester, NY mp@pbacrep.com.
Learn more about MAFSI's Quarterly Commercial Foodservice Business Barometer Survey.
Huge thanks to the rep firms that participated


in the Q3/2022 MAFSI Business Barometer

4 Star Reps, Inc.
AFS Anderson Foodservice Solutions
Agences Hamilton Agencies
Allied Technologies Food Equipment
Bob Waite & Associates
Cannon Marketing
Celco Inc.
Chrane Foodservice Solutions
CLV Marketing
CMA Foodservice Solutions
Collis Group, Inc.
Copperfield Agencies Limited
Cowan Associates
Dedicated Foodservice Solutions LLC
DJ Marketing & Associates
E. Ruff & Associates, Inc.
Elevate Foodservice Group
Equipment Preference, Inc. (E.P.I.)
Ettinger-Rosini / Waypoint
Finn Foodservice
Florida Agents, Inc.
Food Equipment Representatives, Inc.
Food Service Solutions Inc.
Forbes, Hever & Wallace, Inc.
Gabriel Group LLC
Greenwald Sales & Marketing, LLC
High Sabatino Associates

Hollander Company
HRI, Inc.
Johnson Pike & Associates, Inc.
Kain McArthur
Kaufmann & Associates
KBC Specialty Products, Inc.
Kelly-Mincks
Ken W. Thomson Associates Ltd.
KLH Marketing, Inc.
Link2 Hospitality Solutions
LRM Rep Group
Lund-Iorio, Inc.
MAC Sales & Marketing LTD.
McGill Hospitality
Mid-West Associates
Midwest Professional Reps, Inc.
Mirk Group
ONE SOURCE REPS
P3Reps-NNY/Lake Effect
Paglio & Associates, Inc.
PB & J Commercial Agents
PBAC & Associates LTD
Pecinka Ferri Associates
Permul Ltd.
Preferred Marketing Group
Premier Foodservice Solutions
Pro Reps West

Professional Manufacturers Representatives (PMR)
Professional Reps
Pro-Quip Foodservice Equipment & Supplies Inc
R. Henry & Associates
Raleigh W. Johnson & Company
Redco Foodservice Equipment, LLC
Schmid-Dewland Associates
Shamrock Foodservice Equipment Reps. Inc
Sharkey & Associates
Southwest Foodservice Equipment Marketing
stage KOLSTAD associates
The 2Market Group, Inc.
The Fischer Group
The Pantano and Pinilla Agency, Inc.
The Redstone Group
The YES Group
Thormann Associates
TLC Marketing Inc.
Total Source Equipment & Supply
Total Tabletop Plus
Vader & Landgraf, Inc.
Viola Group
Voeller & Associates, Inc.
W. D. Colledge Co., Ltd.
Walter Zebrowski Associates
Wyllie Marketing
Zink Foodservice




Easily Complete the Business Barometer with MAFSI's New Excel Tool

This tool is just like it sounds, it is an Excel spreadsheet that has been formatted to calculate the percentages needed for your Quarterly Barometer Survey.


Download the new tool and read the blog by MAFSI Board Member, Mike Colligon, High Sabatino Associates
Q4/2022 Barometer
Release Dates

-Q4/2022: Survey Opens
to Rep Firms on 01/19/2023

-Q4/2022: Released to
industry on 02/20/2023


Are you a Rep Firm and want to complete your barometer survey, but didn't receive your email for Q3?
Email us at info@mafsi.org.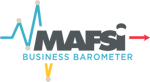 How to Use the MAFSI Commercial Foodservice Business Barometer

What does the MAFSI Business Barometer mean to you?

Better negotiations.

There is no one else in this industry better able to provide this information than the Rep, the people who live and breathe it across the country every day. The purpose of this one-of-a-kind survey is to share – not only with MAFSI – but with other industry partners and associates how the industry fared last quarter and projected consumer confidence for this quarter.

The barometer is a tool for our members to have the necessary data required to negotiate future quotas and bonus plans. This survey is also a benchmark for all of us to gauge our own business activity and growth, both nationally and regionally

Benefit by being exposed to the MAFSI Barometer.

The more you know about the market, the better it'll be for your partner's business, and for yours. By making sure your sales manager, head of sales, and chief financial officer are exposed to the MAFSI Business Barometer, you're doing everyone a great service. MAFSI Rep members are the closest resource manufacturers have in the marketplace, and what MAFSI members see can make a real difference.
By being thoroughly familiar with the data and having ideas of how to capitalize on market trends and conditions, you become a very powerful force for your business.

Using the MAFSI Business Barometer data as a starting point for discussion of your market for your industry partners' products is one more way that your company demonstrates professionalism and competence in the industry.

The bottom line.
As a member of MAFSI, you receive the MAFSI Business Barometer as a tangible benefit of membership. Using the barometer to your advantage can be very beneficial to your business. The barometer is proof that MAFSI Reps have their fingers on the pulse of their markets. Your knowledge and experience are invaluable to industry partners.

The MAFSI Business Barometer is a quarterly survey that has become a leading economic indicator in the foodservice industry with an inside look at regional and national sales trends and forecasts for equipment, supplies, tabletop, and furniture lines.
If you have any questions, please contact MAFSI at info@mafsi.org or 404-214-9474.