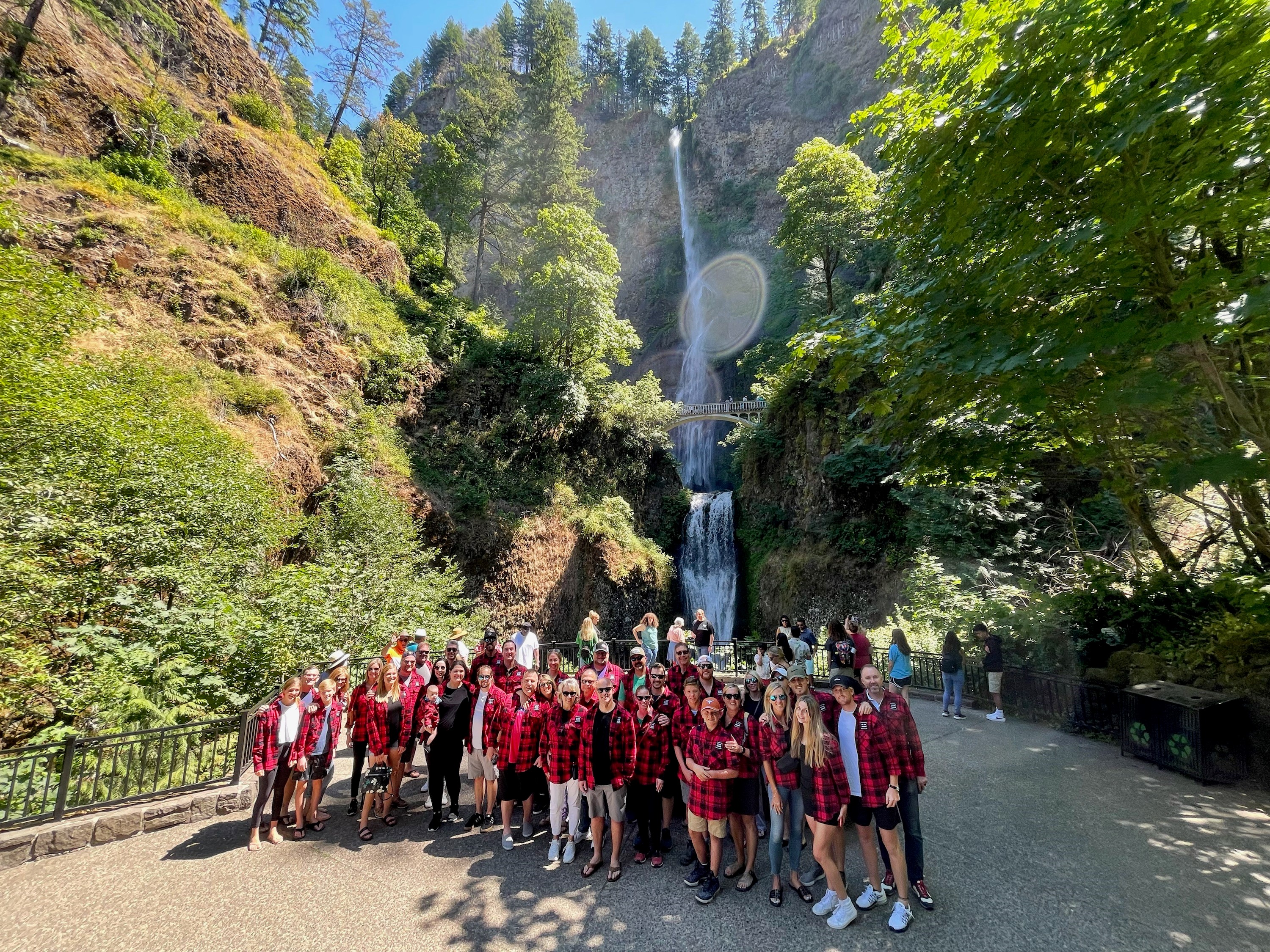 MAFSI members have much to look forward to in the coming two quarters, and I left the recent board of directors meeting in Washington state with a sense of pride on behalf of the association for all of the things we've accomplished, and can look forward to as members this Fall and into 2022.
Enormous changes are taking place in our industry affecting our companies and our association that require us to critically analyze how we will approach our markets and businesses. Managing change and leading change are and will continue to be operative phrases for MAFSI. As we continue positioning for the future, all of us will have to make important decisions that will have far reaching and very positive implications for you, the representative profession and for MAFSI.
At the end of July, we were fortunate enough to hold the annual MAFSI Summer board meeting. On behalf of all the people that attended I believe it is safe to say it was a breath of fresh air from the situation for the last seventeen months. Being face to face, shaking hands, hugging, sharing meals, and of course doing the work of the organization were all orders of the day.
The Skamania Resort in Washington state made the perfect setting for the board of directors. The views and vistas were spectacular, side trips to a winery and the highest waterfall in the US made it even more enjoyable. For me it was terrific to meet new members of the board and their families and all the others I hadn't seen for far too long. The energy was good, the work was done, then there was the campfire. This was the defining feature of this board meeting. It was safe in the current forest fire situation by being concrete and natural gas and with several chairs set out it became the social, philosophical and just plain interesting conversations venue. A must for future board meetings. Thank you to all who attended and to the few that because of the pandemic could not attend in person but soldiered on via Zoom. A lot was accomplished in the meetings and here is a review of our plans and programs:
GENERAL BUSINESS
New Board Members: We welcomed three new directors to the national board:
Bill Peters, Food Equipment Representatives, Inc. – Region 13 – Florida
Mike Colligon, High Sabatino Associates – Region 5 – Mid-Atlantic
Phil Irwin, Celco, Inc – Region 26 - Canada
MAFSI Committees: MAFSI has over 80 members (board members and rising stars (members under 40)) volunteering to work on our 8 committees. These 8 committees are working on over 30 different initiatives for MAFSI.
Conference Planning
M Chef Committee
Membership & Marketing
Digital Training & Education (DT&E)
Rep Firm of the Future (RFOF)
SpecPath and Industry Data Sharing
Diversity, Equity and Inclusion (DE&I)
Research, Data, & Trends (RD&T)
Committee Blogs: Starting this Fall, all MAFSI committees will be publishing monthly updates on their happenings on the MAFSI Committee Blog webpage.
CONFERENCE PLANNING COMMITTEE
The Conference Planning Committee develops the highest quality educational programming for both our representative and manufacturer members via the biennial conference.
MAFSI '22 – January 23-27 in Naples, FL
M CHEF COMMITTEE
The M Chef Committee was created for rep firm chefs and set to launch in January 2022. The M(AFSI) Chef committee will increase member and industry awareness of the value of culinary training and selling and identify and develop educational programs addressing specified and broad-based culinary training. They will also develop a certification program for rep chefs that will become a new industry standard.
M Chef Launch: At MAFSI '22 the committee will sponsor chef-specific education tracks and on Wednesday, January 26th will hold our first-ever M Chef Showcase to celebrate this new MAFSI committee and their exciting initiatives.
MEMBERSHIP & MARKETING COMMITTEE
The Membership & Marketing Committee continues to focus on implementing strategies dealing with member growth and development; membership growth and retention; marketing and promotion of members services to increase participation, and social media. Their initiatives include:
Fall Membership Drive
MAFSI is conducting a Fall membership drive to recruit 20 new rep and/or manufacturer members before MAFSI's 2022 in January. Help us reach goal! If you know a rep or manufacturer that would benefit from MAFSI membership, please email their contact information to Ramsey Phillips at rphillips@mafsi.org.
New Member Service Partners & Member Benefits
We have a plethora of new service providers for MAFSI members. To recommend a new member service provider or member benefit, please contact Ramsey Phillips at rhillips@mafsi.org.
New Member Service Partners
New Member Benefits
MAFSI Matters Newsletter: The committee is working on a relaunch of our electronic newsletter, MAFSI Matters, by January 2022.
Complete Member Benefit List: Please visit MAFSI's member benefits
Social Platform Outreach and Logos/Branding
DIGITAL TRAINING & EDUCATION (DT&E) COMMITTEE
The DT&E Committee develops programs, services and training to assist our rep and manufacturer members in all areas that have and will have technological impact on them and their partners. Their initiatives include:
Foodservice Academy is home to our online training programs including Foodservice 101 and Smartphone Video Workshop.
Foodservice 101: Our hugely successful six-course Foodservice 101 curriculum has educated over 300 reps and manufacturers, receiving 5-star reviews. If you have staff members with under 5 years' experience, you need to sign them up for Foodservice 101—the industry's only training on the channel and channel partners. Cost is $299 for all 6 one-hour courses.

And as the industry continues to see recovery from COVID, the committee is working on getting the word out on Foodservice 101 to non-MAFSI members including dealers, consultants, service companies and non-member manufacturers. Please encourage your channel partners to check it out at foodservice101.org.
Smartphone Video Workshop: Also hugely successful, is our Smartphone Video Workshop—the only program in the industry for how-to training making marketing and demo videos on your smartphone—an absolute must for all reps and manufacturers looking to expand their reach on social platforms. Cost is $349 per company.
REP FIRM OF THE FUTURE (RFOF)
The Rep Firm of the Future Committee focuses on the emerging trends on the changing roles and activities of the MAFSI representative and other industry trends affecting the representative/customer/factory relationship and the growth and development of MAFSI rep firms and manufacturer partners. Their initiatives include:
Compensation and Contracts
Commission and Contracts were reported as the number one concern for rep firm members in 2021. The committee is working on a compensation and contracts resource webpage for reps and manufacturers, slated for launch in September under the "Tools" section of mafsi.org.
Rep Firm of the Future
The committee is working on a "spec sheet" addressing the functions of the rep firm of the future, slated for release at MAFSI '22 and supported through special breakouts for reps and manufacturers.
Best Practices/Business Models
Strategic Alliances/Industry Relations
Allied Partner Conferences: MAFSI President, Tom Mitchell and Executive Director, Alison Cody will be representing MAFSI at the following allied partner conferences:
FEDA Conference - September 21-24, 2021 in Nashville, TN
CFESA Conference – October 4-6, 2021 in Phoenix, AZ
NAFEM Annual Meeting – February 28-March 3, 2022 in Scottsdale, AZ
FCSI Conference – April 21-23, 2022 in Montreal, ON
SPECPATH & INDUSTRY DATA SHARING COMMITTEE
The SpecPath & Industry Data Sharing Committee provides a competitive advantage to our SpecPath and SpecQuote subscribers by developing new features and benefits and working with industry partners on sharing data across the channel.
New SpecPath Features Released this Fall
My B. I. (Business Intelligence): SpecPath's new module, My B.I. combines business analytics, data mining, data visualization, and best practices to help organizations make more data-driven decisions. The My BI page gives you the ability to create, edit and export custom reports in a variety of visual formats including graphs and comparison charts. You'll have the ability see deep into your projects, by category, by specifier, by brand, you name it.
My Product Categories: For the first time ever SpecPath, My Product Categories will include item product categories. This new module enables SpecPath Subscribers to filter through projects in your region by item category. You can sort by items or projects and also by brand or consultant. It will show your totals per category, the industry totals per category (in your region) which will enable you to see your spec-share percentage.
SpecPath Training
Starting in late September 2021 we will hold monthly SpecPath training webinars that will cover 1-2 main topics per meeting so our subscribers can get the most out of SpecPath.
Also released this Fall will be a SpecPath in-program module that covers what's new, what's fixed, what's coming and a special SpecPath section in the soon-to-be re-released MAFSI Matters newsletter subscriber including spotlight, stats, etc.
DIVERSITY, EQUITY & INCLUSION (DE&I) COMMITTEE
The Diversity, Equity & Inclusion Committee was formed to help create a community experience that is open, welcoming, and demonstrates our values to our industry.
DE&I Resources and Training Debuting this Fall
Glossary of Terms: The committee is compiling a comprehensive list of definitions for terms pertaining to DEI, BIPOC, LGBTQ+ issues. This resource is being edited and made user friendly so we can share it as a resource for MAFSI members.
Resource List: They are also developing a list of resources for reference for DEI in the foodservice industry working on a "best practices" list.
DEI Training: For MAFSI '22, they are also developing two DEI sessions.
RESEARCH, DATA & TRENDS (RD&T) COMMITTEE
The RD&T Committee develops MAFSI's membership survey and data projects. Their initiatives include:
Market Trends
At the Summer board meeting the committee changed its name to Research, Data & Trends from Research, Data & Technology.
This name change was predicated on responses from our 2021 Member Assessment Survey where increased trend spotting was one of the top member requests for both reps and manufacturers. More information on this exciting trends initiative will be announced during MAFSI '22 this January in Naples, FL.
Surveys and Research
MAFSI Technology Certification (MTC) Program
MTC Criteria and Promotion: The committee will continue to update the MTC Program for Rep Firms criteria for the four MTC levels: Core, Advanced, Expert and Master.
Education and Promotion: For MAFSI '22, they are also developing two technology breakouts--one for reps and one for manufacturers and are planning special promotions for MTC Rep Firms at the event.
Tom can be reached at tommitchell@tlcmarketing.ca, and welcomes your feedback.